SignalCheck
Help / FAQ  |  Change Log  |  To-Do List  |  Known Issues
SignalCheck is our Android app that allows users to check the true signal strength of their connections. Unlike the standard Android signal bars, which only display the 1xRTT (voice and low-speed data) signal strength, SignalCheck shows you detailed signal information about all of your device's connections, including 1xRTT, GSM, EV-DO or eHRPD (3G), LTE (4G), and Wi-Fi.
SignalCheck will display LTE Cell ID information on many HTC devices, as well as some devices by other manufacturers running Android 4.2 or higher. SignalCheck was one of the first (if not THE first) Android apps to provide this information to users.
A configurable SignalCheck widget can be added to your home screen, showing your realtime connection type and signal strengths.
SignalCheck also displays the current connection type along with the carrier name, or the System ID of the carrier if roaming.
One of the best features of SignalCheck Pro are the notification icon(s). A user-customizable icon shows your data connection strength in the notification area at the top of the screen, and more details can be seen in the pulldown menu. Your signal strength is always at the top of the screen along with your other icons.. no need to open the app to check your connections. The icons are customizable, showing signal bars, connection type, digital signal strength in dBm, or connection type with signal strength. A secondary icon can be enabled to always display the 1xRTT signal for users who wish to compare their signal strengths realtime. All of this is customizable from within the app! Users can configure this to automatically start when their device boots up if they choose to.
SignalCheck Pro can also notify the user with an audio and/or vibrating alert when a 4G LTE connection is discovered. This is handy for users traveling in new cities, or if your carrier's 4G network is still under construction — know immediately when you have a high-speed connection! Alerts can be disabled by the user if desired.
Sprint users can enable audio and/or vibrating alerts in SignalCheck Pro to notify them when they have an 800MHz 1xRTT connection.. very handy for finding new sites!
Curious as to which tower you are connected to? SignalCheck Pro will not only show you the ID, but also the street address of the CDMA 1X tower or sector! Clicking on the address will automatically show the location through Google Maps or your default mapping app. This feature is only available for CDMA 1X connections, as there is no comparable function on other network types.
SignalCheck Pro has an option to quickly reset your data connections from within the app (root access is required if you are running Android 4.2+). Also, users can choose to keep the screen on when SignalCheck Pro is in the foreground if they choose to.
SignalCheck Pro provides easy access to advanced Android screens such as Data, Debug, Engineering, EPST, and Field Trial, along with Battery Info, Mobile Networks, and Wi-Fi info. These screens are already available on most Android devices, but are only accessible by special dialer codes.
We are always looking for feedback, including suggestions and bug reports.. compliments are always welcome too.
The latest version of SignalCheck Pro requires Android 5.0 or newer, while SignalCheck Lite is compatible with all devices running at least Android 2.1. The latest versions can always be found on Google Play™ through your Android device or by clicking the icon below.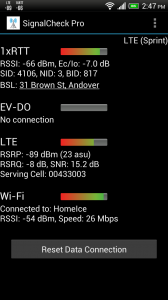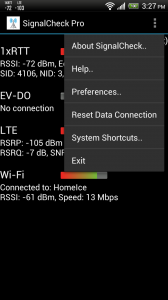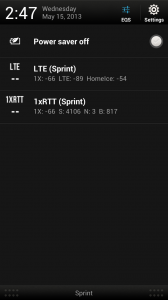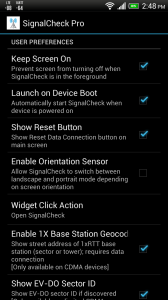 Have questions or need support for SignalCheck? Contact us here.
Want to see what is in the future for SignalCheck?  Check the to-do list here.
Curious about what has been updated in SignalCheck lately? Take a peek at the change log here.
Want to know what Android or manufacturer problems might be affecting SignalCheck on your device? View the known issues here.